Product Description
A precise control of LCD cell gap containing liquid crystal is critical to achieving the best display performance. Spherical particles used to control the thickness of the liquid crystal layer must meet stringent requirements such as precise particle size, tight particle size distribution, suitable hardness, and excellent resistance against heat, cold and chemicals.
NM LCD SPACER Characteristics
● Uniform sphere and smooth surface
● Accurate particle size control
● Narrow particle size distribution
● Excellent resistance against heat, cold and chemicals
● Good dispersity and no aggregation
● Excellent mechanical strength and superior crush resistance
● Free from contaminations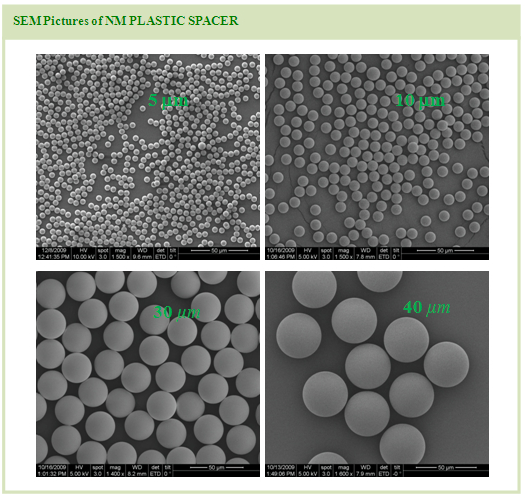 Typical characteristics of NM Spacer: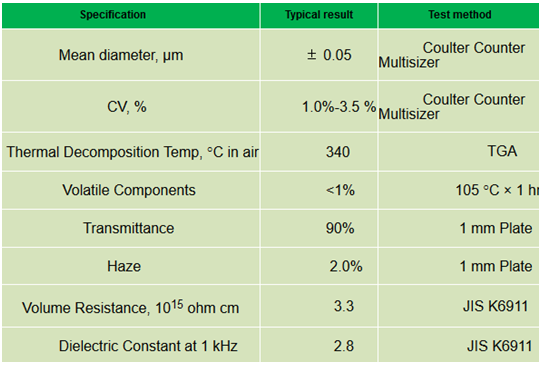 Typical characteristics of NM Spacer: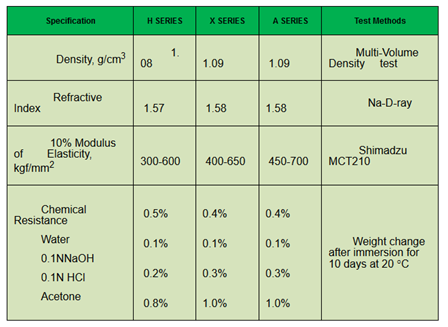 Precise Particle Size Control of NM PLASTIC SPACER: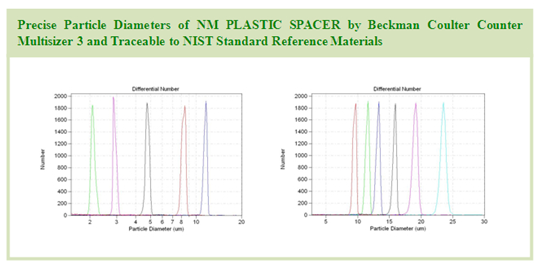 Impurity Control of NM PLASTIC SPACER:
The amounts of ions in PLASTIC SPACER are critical and tightly controlled in the entire manufacture processing. The amount of Fe, Ca, K, Na is detected by ICP spectrometer and Cl by ion chromatography.

NM PLASTIC SPACER Meets RoHS Requirements:
NM PLASTIC SPACER do not contain any chemicals prohibited by RoHS. NM PLASTIC SPACER is inspected yearly by an internationally certified agent to meet all RoHS requirements. The RoHS certification of NM PLASTIC SPACER is current and valid, a copy of which can be sent upon request.

Type and Size of NM PLASTIC SPACER:
Nano-Micro Tech provides three series (H, X and A) of high quality plastic spacers to meet various demanding application requirements for different customers. The three series of plastic spacers, in the order of increasing hardness, modulus, and recovery are H, X and A.
NM PLASTIC SPACER provides a broadest size selection from 2 µm to 100 µm. Our state-of-the-art manufacture facilities, advanced analytical instruments and reliable quality control system guarantee the quality and reproducibility of NM PLASTIC SPACER products.
General rules: NM HT XXX;NM HS XXX;NM XT XXX;NM XS XXX;NM AS XXX;NM ASE XXX
NM - NanoMicro
T - TN; S - STN
XXX - diameter, for example: 065 – 6.5 µm, 100 - 10.0 µm
l Standard products are: 2.0-5.0 µm in 0.25 µm increments; 5.0-10.7 µm in 0.10 µm increments; above 11.0 µm in 1.0 µm increment.
l Spacer of special size, below 2.0 µm or above 100.0 µm, is available upon request.
l Mean diameter of spacer is consistent from lot-to-lot according to Beckman Coulter Counter Multisizer 3.
Recommended Spraying Methods of NM PLASTIC SPACER:
Dry Spray : For best results, it is recommended to vacuum dry NM PLASTIC SPACER at 80 °C for 8 hrs (caps off) before dry spraying, which ensures SPACER disperse smoothly and freely.
Wet Spray: Disperse NM PLASTIC SPACER in organic solvent such as isopropanol or ethanol, ultrasonicate a while before adding proper amount of water. This usually works better than dispersing SPACER directly in aqueous solution containing of organic solvent.
Recommended spraying density:

Spraying density and applied pressure should be adjusted according to SPACER size etc.. Service technicians from Nanomicro Technology Company are professionally trained to help our customers to achieve best results.
Packaging and Storage of NM PLASTIC SPACER
NM PLASTIC SPACER is packaged in 10 g or 20 g glass vials with plastic caps and inserts to keep moisture away from the contents. PET vials of 10 g or 20 g are also available upon request. The label on the vial includes product name, lot number, expiration date, weight, RoHS, inspection passing stamp, etc.
NM PLASTIC SPACER vials should be stored in dehumidifying cabinets with controlled temperature and humidity. The cabinet should be set at room temperature and kept under 25% humidity. It is recommended to use up the entire product in a vial once it is opened.
NM PLASTIC SPACER Packaging and Storage
Suzhou Nanomicro Technology Co., Ltd.
Established in Biobay, Suzhou in 2007, NanoMicro is the world leader in the manufacture of spherical, mono-disperse particles utilizing our proprietary manufacturing processes which enable high yield, cost effective production of such particles for a wide variety of industries and applications. NanoMicro`s products cover a broad spectrum of applications including high performance chromatography media, solid phase extraction (SPE) sorbents, Particle Size Standards,Magnetic Particles, LCD Spacers, ACF Conductive Particles, and various Other micro particles.
Our chromatography products are available in a variety of polymer formats with particle sizes from analytical through to preparative scale. Our proprietary expertise in controlling particle morphology and surface chemistry can be precisely tailored to optimize for solutes ranging from the smallest API to large constructs such as viruses and viral vectors. A wide range of surface chemistries is available from RPC/chiral for small molecules to ion exchange/affinity for biomolecules.
We manufacture mono-disperse particles of wide range of sizes. With more than 10 product lines and over 5000 products, we serve a variety of rapidly growing industry segments.
NanoMicro has two ISO 9001-certified manufacturing sites, one in Suzhou Industrial Park and another in Changshu to ensure security of supply for our customers. Both facilities use the same well- defined processes with production capacity of more than 200,000 Liter of resins and 24,000 kg of silica products per year with batch sizes up to 1000 L or 200 kg. NanoMicro`s manufacturing and quality system are available for customer audits.
Additionally, our strong R&D and applications teams ensure sustainable innovation and can provide custom solutions such as custom resin development and purification process development.
Company Name: Suzhou Nanomicro Technology Co., Ltd.
Representative: Biwang Jack Jiang
Product/Service: Chromatography Media , Chromatography Column , LCD Spacer , Standard Particles/Spheres , Magnetic Beads , Monodisperse Microspheres
Capital (Million US $): 10000000 RMB
Year Established: 2007
Total Annual Sales Volume (Million US $): Above US$100 Million
Export Percentage: 31% - 40%
Total Annual Purchase Volume (Million US $): US$1 Million - US$2.5 Million
No. of Production Lines: 20
No. of R&D Staff: 41 -50 People
No. of QC Staff: 11 -20 People
OEM Services Provided: yes
Factory Size (Sq.meters): 30,000-50,000 square meters
Factory Location: 2 Baichuan ST, Suzhou Industrial Park
Contact Person: Ms. Yuhua Fu
Tel: 86-0512-62956000